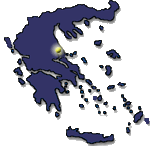 Pelion Magnisias

Educational and social activities
From its foundation up to today the Research Association of Pelion has developed activities as for example:
The collection of Greek traditional costumes and other material with the intention to have it someday exposed at the Folklore Museum.
Foundation of cultural hearths, organization of a frame of cultural events, titled "KENTAVRIA".
Educational programs.
A department for the exposition of children's costumes.
Organized Christmas activities (Christmas fair) with homemade sweets and drinks and topical craftsmanship from the members of the association.
Organization and attendance in Greek and international congresses of culture and tourism.
Organization of seminars for Greek dances, music and language to promote to foreigners the significance of "Cultural tourism".
Educational excursions are organized with the participation of our members.
It generates contacts with other associations, aiming at the exchange of hospitality from Greece and abroad.
It has represented our country in international exhibitions of tourism and festivals, organized in countries as Cyprus, France, Austria, Japan, Russia, Serbia, Czech Republic, South Italy - Calabria -, and Switzerland.