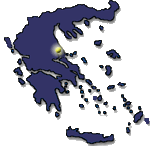 Pelion Magnisias

FRATERNIZATION WITH SWISS DANCING STEPS
The Research Association of Pelion has realized a trip to Switzerland in September 2005 with a delegation of 49 persons after invitation by the Greek-Swiss Association of "Cultural Circle of Friends of Greece in Vasilia". It gave performances with the c horus of traditional songs and the dancing teams of traditional dances that allocate. The performances gave a good impression about the history and the natural beauty of our prefecture together with printed tourist material of the Committee of Tourist Projection Magnesia and the Association has the joy to return the hospitality to our Swiss friends on 6 May for three days.
The Swiss guests will have a conducted tour in the village of Milies from where they will go on a trip with the traditional train of Pilion to the following villages: Byzitsa, Pinakates, Ag. Georgios Nileias, Portaria, Makrinitsa, Museum of Butterfly and the city of Volos.
They will also get acquainted with the Prefecture of Magnesia. During their visit they will watch a seminar of traditional dances that will take place on the grounds of Mr. Moytselo and Mrs. Tsiptse, teachers of our Association.
On Monday 7 May, at 8 p.m. in the Porfyrogeneio Institution in the town of Agria the twinning of two associations will be realised, which is an innovative a ctivity in the standard of Associations. The aim of the fraternization is the appearance of Greek culture in all its spectrum through a mutual effort.
On 19 August 2013 the traditional chorus of the Research Association of Pelion will present itself in Ag. Georgios Nileias of the Municipality of Milies and on 31 August the dancing teams and the chorus of the Association will present it selves at the square of Ag. Stefanos in Alikes of Volos.

August 2013, Agria Pelion