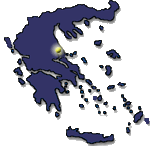 Pelion Magnisias

Our Chorus
Since October 2001 The Research Association of Pelion has its own chorus which mainly involves traditional Greek songs.

It consists of 30 members who sing our traditional songs with lots of passion in authentic Pelioritic costumes. The main interest of the chorus is drawn on traditional folk songs of almost the entire region of Greece and Minor Asia, with a focus on songs of Pelion, Montenegro, North Sporades, Thessaly and the Aegean Islands.

The teacher of the chorus, Mr. Yiannis Bakalexis, is for more than 25 years a researcher of Greek traditional and folk music, which undoubtedly expresses in the most authentic way the passion, expectations and feelings of the Greek people. Sacred relics as they are, these traditions constitute a great heritage that is passed on verbally from generation to generation and infuse us with our values and customs, binding us to our roots.

The traditional chorus of the Research Association of Pelion has achieved remarkable performance in different areas of Greece and abroad, obtaining excellent critics.

One of the most important performances is the participation of the chorus - in collaboration with Mitsi Laoudi's Modern school of Dance - during the cultural events for the 2004 Athens Olympic Games, supported by the Prefecture of Volos.